Yes, I know it's a little early to be thinking about Christmas but I'm making something so I need to get started on it. Not to mention the fact that I'm one of those crazy people who decorates for Christmas at the first of November. You have to have it up long enough to enjoy it!
So, last year our poor tree was naked at the bottom. I couldn't find a tree skirt I liked and honestly, I wanted to make one but couldn't find the right inspiration. The other day, I came up with the perfect idea.
Picture burlap:
bordered by a red plaid taffeta ruffle (I want a little bit of a deeper red than this though)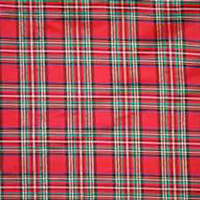 and some kind of rope trim to finish it all off
I hope it turns out as well as I have it pictured in my mind but we'll see!